Kontra Daya initial mid-day statement: trend of massive disenfranchisement emerges
May 10, 2010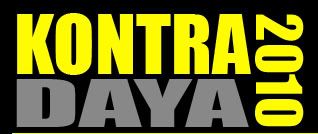 The first five hours of country's first automated national elections have been characterized by delayed voting,  slow and poorly organized voting system, and widespread PCOS machine malfunction. There were also sporadic reports of cases of poll-related violence in several areas.
In some extreme cases, voting has been delayed to as late as 11 AM to 12 noon. Among the common reasons for the delays are malfunctioning PCOS machines. The situation is compounded by BEI members not aware of the contingency measures in case of malfunctioning PCOS machines such as allowing voters to cast their votes and feeding the ballots later when the glitch in the machine has been fixed. Another aggravating factor is the reported lack of ability of the IT consultants manning the polling centers.
The use of the stub system has also added to the delays in the voting process. Some have raised the concern that the system may be used to favor some candidates. The implementation of the system is also not uniformed, with some areas reporting that poll watchers are the ones distributing the stubs to voters. This creates an additional bottleneck, apart from the difficulties of the BEI's who process voters.
In our monitoring, some areas had an average of 20-30 voters per hour casting their ballots. This is a very slow rate and will not able 1,000 voters to finish, even if the Comelec extends voting hours to 7pm.
Based on field reports, there is an emerging trend of massive and prevalent disenfranchisement of voters due to the disorderly system and delayed voting. Disgruntled voters were forced to go home in droves and such cases have been reported in various polling centers around the country. It remains unclear, however, that these voters will still return later in the afternoon despite the Comelec announcement of extending the voting hour due to accommodate these disgruntled voters.
Meanwhile, there are also reported cases of voters not included in the voter's list, which lead to disenfranchisement as well. First time voters who were late registrants complained that their names were not on the voters list and that they were not allowed to vote despite proof that they are registered voters.